Highlights of 2019 Summit & Trade Show (Keynote & Morning Sessions)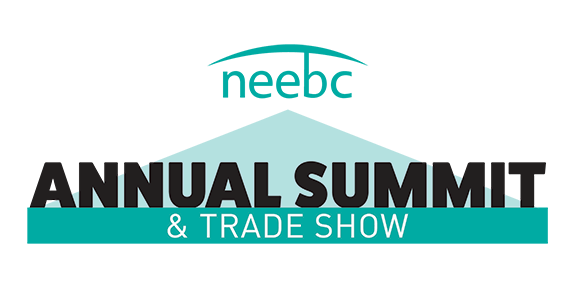 As someone who has made a professional home in the employee benefits space, there are a number of events that I look forward to each year. One of them is the NEEBC Annual Employee Benefits Summit & Trade Show. I had the privilege of not only attending this year, but of also being asked to blog about the event. As a former prolific blogger (that's debatable), I was happy to oblige.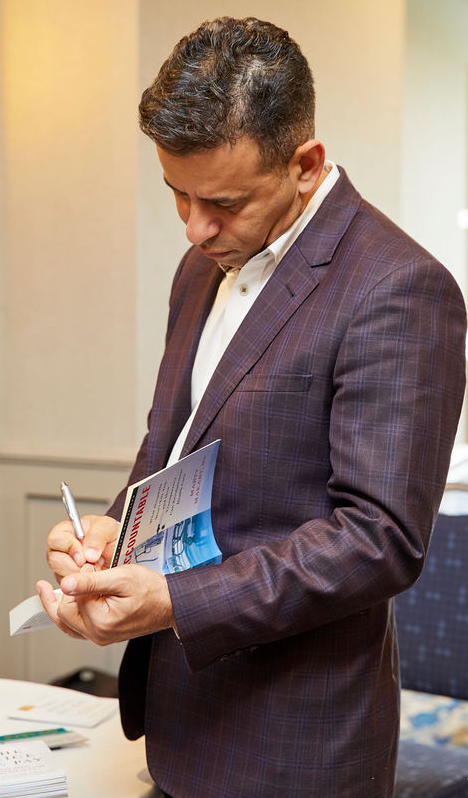 NEEBC has been in existence for nearly 40 years, and each year they do a great job of getting a top-name speaker to keynote the event. This year was no different. Dr. Martin Makary was the first speaker.  He is a Johns Hopkins surgeon and New York Times bestselling author, was the lead author of the first publication on The Surgical Checklist and later served in leadership with Atul Gawande on the World Health Organization Surgery Checklist project.
---
Dr. Makary was as refreshing a speaker as there was. It's not often you hear people in the medical professional really critique their own industry. He began by telling the story about how he always admired the painting of George Washington crossing the Delaware – that is until he was made aware of all of the inaccuracies in the painting. He used this to frame the fact that our minds latch onto what we want to believe, not the messy behind the scenes "stuff" that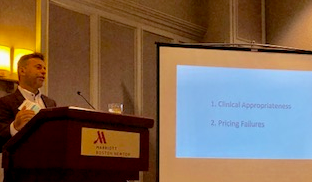 occurs. This led to the two main points of his keynote: clinical appropriateness and pricing failures.
On the subject of appropriateness, Dr. Makary shared that of 2,100 doctors surveyed, 21% felt the care they provided was unnecessary – a bit shocking. But there is hope. Dr. Makary spoke of medicine and how we're learning more each day which should lead to less unnecessary treatment and more appropriate treatment. However, we're fighting an uphill battle. He described the consumer approach that is "ruining healthcare" – consumers who are bombarded with pharmacy ads and then ask their doctors to give them the drug advertised on TV. With financial incentives supporting the doctor's action to prescribe the drug, it's hard to reduce inappropriate care.
One of the more disturbing stories that he shared was around the physician practice pattern related to opioid prescriptions at Dr. Makary's own hospital – 30-day supply prescribed for any surgery – and this is at the #1 hospital in the nation. He got a laugh out of the crowd when he asked "What happens at the #2 hospital?" The severity of this was not lost on the crowd. The efforts he and others made led to more appropriate opioid prescriptions at Dr. Makary's hospital and had an impact beyond his hospital – it led to the Epic hospital systems considering the use of a ceiling number of opioid pills as a default.
Another light shined on this topic was how we measure value in health care and how the measurement science has gone awry. We should start with the appropriateness of a procedure before we measure the outcome of that procedure. On this topic, he shared the story of sending "dear doctor" letters written by physicians to other physicians whose practice patterns were outliers. These letters have resulted in lower inappropriate / unnecessary surgeries.
---
On the topic of price, there were a few topics discussed – many of them in the news today. First, Dr. Makary discussed the practice of predatory billing which could lead to many avoiding care due to fear of not being able to afford the care. Also discussed was PBM pricing. These topics have been discussed in Washington with some moving forward in a bipartisan fashion. In fact, Dr. Makary made reference during his keynote of a "soon to be released bill" – the Murray-Alexander Bill – that is targeting health care costs and surprise billing.
One topic that was news to me was the practice of hospitals suing patients for unpaid medical bills. Not only is this an abhorrent practice, but to learn that it primarily targeted/affected lower wage workers from industries like food services, retail, and health care really makes one wonder how we lost our way.
From a "crowd reaction" standpoint, I think the talk was well received. I will say, however, that I heard more than a few folks around me share how surprised they were at some of the keynote speaker's comments – specifically around the perceived lack of understanding by most physicians as it relates to the administrative aspects of the healthcare system and putting the burden of understanding squarely on the patient (e.g., understanding costs, EOBs, etc.). If it takes a village, then we're all part of this village. Physicians should do a better job of understanding the implications of their prescriptions, referrals and orders as they directly impact the patient.
---
Key Messages from the Keynote:
As a consumer, pick high-value doctors who believe in (and practice) appropriate medicine.

As an industry, we should begin working towards how to fix a broken system, not how to fund a broken system.

Our role as HR, benefits and insurance professionals makes a real difference.
---
Primary Care Panel – Response to Keynote: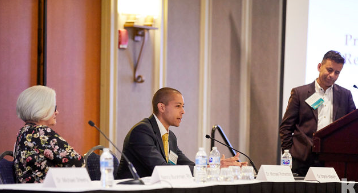 The morning sessions continued with Dr. Makary moderating a panel that included perspectives on care delivery, population health and direct primary care. Each of these topics is being discussed in the benefits arena, and the NEEBC team did a nice job of providing different perspectives with the panel.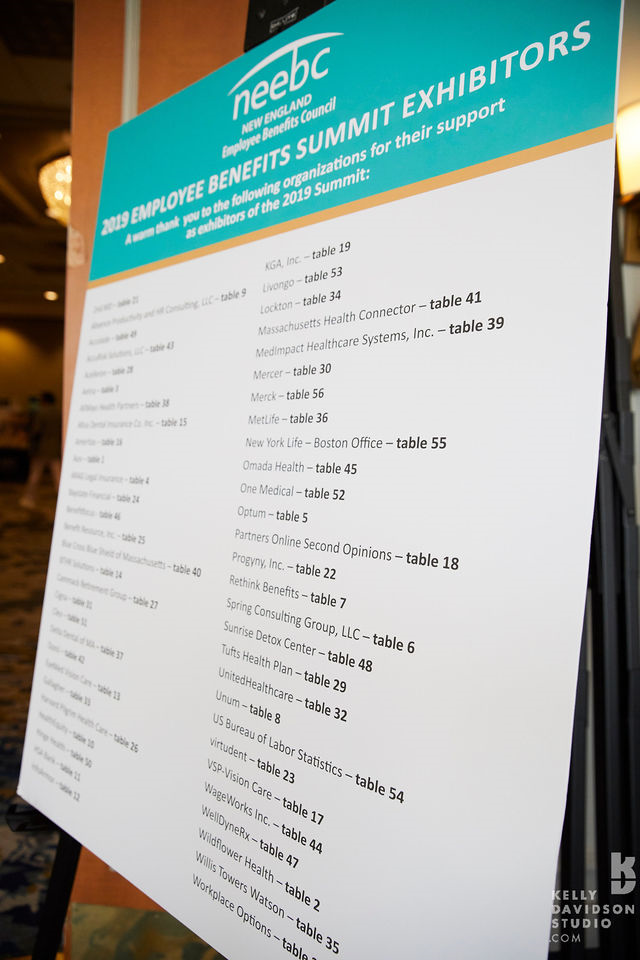 Some of the panelists' companies were sponsors as well, so attendees could learn more about the organizations during the trade show breaks, which were just the right length of time and had quite an array of organizations exhibiting − from digital care solutions for women's health and joint health to benefit consulting firms, dental and vision carriers, and health plans to concierge/coordinated care providers and onsite care providers.
It was an expo full of interesting vendors.
---
Data and Solutions for Dealing with The Opioid Crisis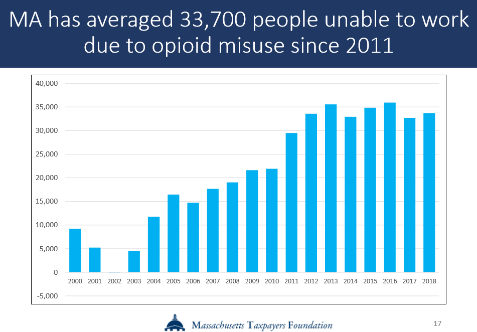 From there, we moved onto the sobering topic of opioids in the workplace which opened with staggering statistics from Eileen McAnneny, President of the Massachusetts Taxpayer Foundation.  Included was this data point about the Commonwealth: Since 2011, Massachusetts has averaged 33,700 people unable to work per year due to opioid misuse!
Eileen then moderated a panel that included a health plan CMO, a benefits professional and a benefits manager for a municipality. The panel did a nice job of talking about tactics for employers, benefit professionals and health plans. Some tactics included:
• Plan design
• Use of data
• Removal of barriers to effective treatment
• Reducing stress in the workforce and the stigma of substance abuse disorders
• Education
I can't take credit for these tactics, but I will be the first to call this the "PURRE" approach to combating substance abuse disorder.
Overall, the event was one of the highlights of the spring for local benefit professionals. Now onto my next NEEBC event: networking and cocktails at Aloft Hotel on June 13th!
---
Dave Kerrigan is the Founder and Managing Director at Sante Nasc, LLC, a healthcare and benefits advisory and consulting firm working primarily with benefit consultants to "source innovation" – connecting benefit professionals to the latest innovations being offered in the space as well as helping firms automate aspects of their business and create better processes to reduce inefficiencies. He also works with healthcare startups and new entrants to the benefits space, providing go-to-market strategy and growth services.

Dave is also the creator of BenefitPitch™ from Sante Nasc, LLC – a searchable database tool that allows benefit professionals to have access to key information on innovative companies offering services to self-funded employers. In addition, Dave is the lead consultant and business architect on the establishment of NFP's Innovation Lab – a process to centralize the intake and standardize the evaluation of early and mid-stage companies offering services in the benefits space.
Dave can be reached at:
781-460-7111
[email protected]
Share this post: