Across the Generations, NEEBC's 2019 Best Practices Conference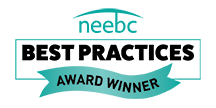 Four of the "Best" Takeaways
Reflecting upon NEEBC's recent Best Practices Conference, where I was honored to moderate one of the two panels of best practices winners, I realize there were a number of themes and ideas I heard and learned from this panel and overall event. Below are four of the "best" takeaways that we can all consider and apply at our workplace.
Listening
The first panel of winners shared that really listening is instrumental in building a successful workplace. Representing a company that values listening, it was helpful to hear how other companies are gaining insights into the benefit needs of their employees, across the generations. Listening is especially important right now because as noted by Lindsey Pollak, guest keynote speaker and multigenerational work expert: For the first time in modern US history, five generations are in the workforce, and it's essential to listen to all the generations.
Three best practices shared by the winners:
Gathering employees in small groups, sometimes without management, can be the best way to gain insights into how to improve benefits or the work environment. In doing so, one panelist learned that the little things count, such as fixing the coffee machine and turning down the air conditioning.

Another way of simplifying the employee experience is by tapping into one's broader social network of family and friends. If they are complaining about the challenge of finding back-up care, it is likely employees are struggling with the same or similar issue.

Companies are hearing from all generations that employees loathe performance reviews and annual surveys. They're never a substitute for face-to-face interactions for valuable feedback.
Creating a community
Community in the workplace is valuable for creating a happier and more productive workplace. The winners believe in the importance of creating community, making sure all generations are represented in employer resource groups.
One seemingly simple but effective way to build a community for all ages is to place puzzles in an open space. Puzzles are enjoyed by people of all ages and can be an office-friendly stress reliever. Delia Oliveira, Director of Global Benefits at Nuance Communications, shared that employees of all generations stop by, even as they are leaving, to just complete a few pieces.
Volunteering activities are another way to get everyone involved. (I personally love this idea of creating a more productive team environment at the same time as giving back to the community. And, a takeaway I hope to put forth in 2020.)
Reducing the stigma
Another best practice, an important one too, is to reduce the stigma of behavioral health issues within the community. Whether through personal pledges or employee/management training, the need to remove the stigma associated with behavioral health issues is recognized by many, including panelists Michael Botticelli from the Grayken Center for Addiction at Boston Medical Center, Lauri Tenney from CVS Health and keynote speaker Lindsey Pollak.
Working to reduce the stigma presents new opportunities for employers and health plans to provide new solutions to improve access to behavioral health services and work to remove the barriers to finding and seeking treatment. One of the panelists noted the fastest-growing service within virtual visits are virtual behavioral health visits.
Understanding the multigenerations in the workplace
With many generations in the workplace, it's important to understand key generational differences and change the business as needed to succeed.
For example, one panelist noted how offering choices to appeal to a wider range of generations is valued. Offering both childcare and eldercare as a benefit or contributions to 401Ks and/or student loans have significance depending on the employee's age.
Lindsey Pollak recommends that many leaders participate in reverse mentoring. By partnering with someone of a different generation, often younger, they learn the invaluable lesson of how staff of a different age really thinks.
And, finally, mentioned throughout the event was that understanding and recognizing generational differences and buy-in to change must come from the top. All the award-winning panelists noted that they could never have achieved such success in the workplace if they hadn't had executive commitment and support.
---
Jennifer St. Thomas, vice president of new business sales, joined AllWays Health Partners in 2017. She has over 20 years of experience in the health care industry, specializing in developing and implementing strategic plans for commercial business, overseeing provider network negotiation and expansion, and managing client relations with brokers and employers. Prior to joining AllWays Health Partners, she held the position of director of commercial contracting at Tufts Health Plan. Jennifer can be reached at [email protected]

Last year, AllWays Health Partners produced this report about multigenerations in the workplace. https://go.allwayshealthpartners.org/generations
Share this post: