5 Proven Takeaways for Employee Engagement Success from the 2019 Summit and Trade Show (Afternoon Sessions)

There's a lot of buzz about #EmployeeEngagement, but what does it look like? There are a variety of descriptions, but I like Gallup's: engaged employees are enthusiastic about and committed to their work and workplace.
High levels of engagement promote retention of talent and foster customer loyalty while improving both organizational performance and stakeholder value.
Most industry leaders identify engaging employees as a work priority (2017 Dale Carnegie study):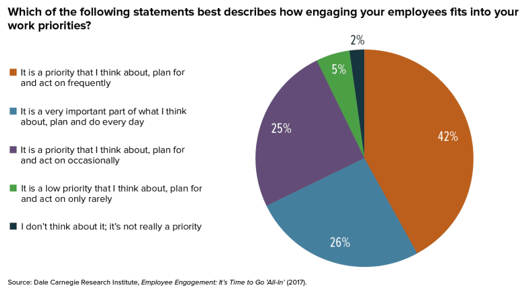 HR departments play critical roles in carrying out these objectives through designing, measuring, and evaluating workplace policies and benefits that help attract and retain talent. They also are often responsible for communicating company news, values, and expectations.
As hiring and keeping talented staff becomes more challenging, HR professionals are strategically leveraging employee benefits as a recruitment and retention tool, according to a 2016 SHRM Strategic Benefits Survey. Employee engagement is a key strategy for managing rising healthcare costs. Improving patient education — especially for how to choose the best value insurance plan and sites of care — was identified as an effective approach to containing healthcare costs at the fall 2018 Health Policy Commission Health Care Cost Trends Hearing.
---
5 Takeaways from NEEBC's Annual Employee Benefits Summit and Trade Show
At the May 23 New England Employee Benefits Council Employee Benefits Summit and Trade Show, HR leaders shared their proven engagement strategies. There are five takeaways from these discussions:
1) Elicit Employee Feedback

In 2011, Mass Mutual replaced its health plan options with high deductible plans. Employee survey results revealed that dissatisfaction with the company's benefits package skyrocketed after this change. The HR department set out to improve those scores, identified goals that informed their strategy to overhaul benefits for 2019: reduced deductibles; an increase in Health Savings Account contributions based on salary; more support for behavioral health and cancer diagnoses; and the introduction of new benefits that supported employees who were starting a family, taking care of a loved one, affirming their gender identity, taking a bereavement leave, and volunteering in their own community. As a result of these changes, employees reported improved satisfaction with their benefits.
"The employee engagement survey was the driver to our making these benefit changes," said Dr. Claudia Coplein, the Head of Health & Wellness and Chief Medical Officer for MassMutual. "Our leaders assess themselves based on these surveys."
Surveys of Partners HealthCare's workforce uncovered that employees were looking to the company to help them navigate their benefits. "This survey also helped us understand which benefits our employees wanted, and we then developed creative benefit solutions that provide choice for our diverse workforce," said Rosemary Sheehan, Chief Human Resources Officer for Partners HealthCare. "We've taken an a la carte approach to benefits as a result. For example, we now offer Long Term Care, which appeals to our older workers, and our younger employees like the high-deductible health plan option." Heather Jordan, Vice President of Human Resources for Eliassen Group, stated that they are expecting substantial savings from switching to a self-insured health insurance arrangement. The company is surveying employees to find out how they would like to share in these savings.
---
2) Review the Data
In addition to reviewing your employee survey data, find out what your claims data is telling you about employee needs. "Data analytics help us drive our benefit decision," said Michelle Jones-Johnson, Vice President of Talent and Chief Diversity Officer at Worcester Polytechnic Institute (WPI). "We look at the benefits our employees are and aren't using and make corresponding adjustments."
Jack Mollen, Retired Executive Vice President of Human Resources at EMC Corporation, recounted that the EMC HR Director was hearing about an uptick in employees suffering from sleep disorders. They ran the data and it revealed that sleep disorders were prevalent. In response, EMC ran a Sleep Disorder seminar and over 350 employees attended. This program has run ever since.
---
 3) Consider Your Workforce Composition and Where and How They Work
Chances are good that the demographics of your workforce are not homogeneous. The needs of younger workers are different from those of older workers. Likewise, lifestyle has an effect on priorities. Take a variety of approaches to account for the nature of an employee's work and distinct work locations. Successful engagement strategies account for these variations.
Citizens Bank's over 18,000 employees are split between retail bank locations, call centers, and a corporate environment. Call centers operate 24 hours per day, and the employees have difficulty accessing appropriate care, and have less connection to corporate initiatives. To solve for these disparities, Citizens embarked on a two pronged approach to wellness: digital and on site. The digital approach enabled Citizens to provide employees anywhere, anytime personalized access. The on-site component provided deep local reach and convenience. Kristin Chenevert, Citizens Health and Wellness Manager, estimates that the bank saved almost $400,000 by implementing on location medical care, health coaching, and physical therapy services.
Ms. Jones Johnson of WPI said that the school is evolving what it offers in the way of benefits based on different demographics. She said that financial and estate planning are popular for the older workforce. Tuition reimbursement, alternative care, and unlimited vacation time appeals to younger workers.
---
4) Communicate in a Variety of Ways
To reach a diverse workforce who aren't necessarily connected to work email, communicate using multiple vehicles. Social media, mobile apps, blogs, videoconferences, teleconferences, and emailed newsletters are key components of effective engagement strategies.
However, don't neglect in-person communication opportunities. In today's digital age, less person-to-person interaction and on-demand technology is eroding employee engagement, according to SHRM's "2019 Developing and Sustaining Employee Engagement Report." Take advantage of formal in-person opportunities, such as new hire orientation meetings, employee surveys, senior leadership speeches, and training sessions. Company social events, recognition programs, and departmental meetings offer less formal conversational opportunities.
Ms. Chenevert of Citizens noted that because only the corporate employees had company email access, the bank promoted their new wellness program using a variety of vehicles. She noted that the new app gave retail staff access to message consistency and that in-person communications played a critical role for the customer service staff.
The Eliassen Group realized that their employees weren't aware of benefit options when they needed them most. Heather Jordan, Vice President of Human Resources, said, "How you communicate matters. We changed our benefit communications strategy to focus on life events—buying a home, getting married, having a child, and retiring—and showed the corresponding employee benefits that aligned to those life change needs."
---
5) Look Toward the Future Needs of Your Organization
Mr. Mollen asked the Chief Human Resources panelists what was next on the horizon for their employee engagement strategies. "We must look to the big picture of our company's goals and correlate our benefits package with those business objectives," said Ms. Sheehan of Partners HealthCare. She noted that attending conferences such as the NEEBC Summit and Trade Show, and bringing back ideas from these meetings was valuable to her organization. Ms. Jones Johnson of WPI noted that how people worked was changing. She said that younger workers were willing to work hard, but they also were looking to shut down from an always-connected mindset, and that those shifts in attitude needed to be accommodated. Ms. Jordan of the Eliassen Group said that flexible work schedules and the opportunity to work remotely was one of their strategies for attracting and retaining employees. Ms. Sheehan of Partners noted that the hospital required 24-hour on-site work, but needed to be flexible in its policies as workers age.
Ms. Jones Johnson stated that because WPI was recruiting employees not only from higher education, but also from private industry, it needed to take into account benefits that are offered in other industries. "We are looking to improve our communications of the total rewards we offer," she said. "This lets employees know we're investing in them."
Balancing cost and innovation will continue to be a challenge for employers. Both Ms. Sheehan of Partners HealthCare and Ms. Jones Johnson of WPI noted the increased demand for behavioral health services. "There's an access issue for behavioral health services and we'll need to increase payments to psychiatrists, social workers and other behavioral health professionals to improve this dynamic," said Ms. Sheehan. "However, we don't want to increase the cost of healthcare, so this is a conundrum – how will we pay to solve these challenges?" She said that leveraging technology would help address behavioral health provider shortages.
---
My takeaway from the NEEBC Employee Benefits Summit and Trade Show? It's always a worthwhile event. You'll pick up new ideas for your own organization, and it's a pleasure to see and network with other benefits professionals.
Cindy McGrath propels healthcare innovation through strategic communications.
Share this post: