Are more health benefits better?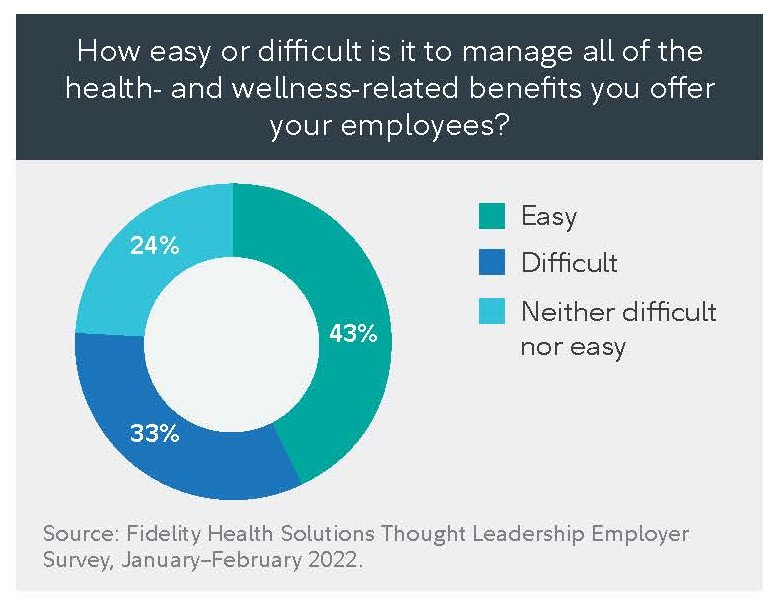 How employers can help ensure they are getting the value from their investment and employees are getting the value to their health

A lot more is asked of employers, particularly in terms of the workplace benefits they offer, including health care. As companies continue to recover from the variability in health care spending brought on by COVID-19, high-performing employers must look toward tomorrow as they execute on providing the best health care benefits to keep their workforces healthy, happy, and productive.
At one time, the primary health benefit that employers provided their workers was a health plan. Today's health benefits landscape looks much different, with a myriad of plan options and point solutions offered to employees. This trend has only accelerated since the pandemic started. Employers must increase the perceived value of these new benefits by raising awareness and utilization and helping employees navigate their benefits. But how can employers do all this and administer these new benefits?
As the variety of employee health care benefits increases, so does the effort to manage them
Nearly all (92%) health benefits leaders we surveyed said their company offers employees at least one health resource or point solution beyond traditional health insurance, from navigation and engagement to condition-specific and well-being. The majority of those respondents began offering them in the past three years, and many plan on adding more over the next two years.
But as the number of different health benefits offerings grows, so does the burden on benefit managers to choose them, administer them, and evaluate their effectiveness. One-third of health benefits leaders said it was difficult or very difficult to manage all of their health and wellness benefits, the chief complaint being that it took time away from other responsibilities.
Employees need help navigating health care benefits, and digital may not be enough
One reason employees may be confused about the various benefits related to health care: Only about one-third (36%) of health benefits leaders said their company had thoroughly reviewed their offerings to identify any redundancies. Redundancies and overlapping health benefits may be confusing to employees and lead to unnecessary administrative costs.
They often arise when there are multiple "entry points" to a service, such as telehealth. For example, employees may be able to access a telehealth benefit through their insurance carrier, as a stand-alone point solution from a telehealth company, or through their doctor. And the telehealth benefit might work differently depending on which path employees choose, adding to the confusion.
Our survey found that the phone is still the top means of contact when an employee has a question about their health benefits, especially among lower-income employees. Having someone to walk them through their health plan benefit options step by step was the most frequently cited way that employees with lower confidence at enrollment time said they would feel more confident about their decisions. Women—who make the majority of the health care decisions in the home—said they would especially benefit from this.
It is often unclear whether multiple health care benefits reduce or add to employer health costs
One sticking point for measuring the ROI of these various health benefit solutions: There's no easy way to evaluate them using traditional financial metrics. In fact, 28% of employers said their company does not have an evaluation mechanism for measuring the effectiveness of these benefits.
As a result, some benefits leaders are looking at "value on investment" or VOI to capture the holistic benefit to employees through surveys and engagement metrics. The challenge for employers will be how to determine the VOI of specific benefits to employees when there may be overlap and multiple layers of health-related benefits.
Strong connections to employees' primary care providers may get lost in the shuffle
One major gap we found in the research is a lack of connectedness between various health benefit point solutions and an overall primary care strategy.
Employers providing supplemental health care benefits such as specific point solutions may not realize how little coordination there is with the employee's family doctor or pediatrician, and only 17% of health benefits leaders said their company offers navigation services that help coordinate employees' care across multiple providers.
But connecting employees to a dedicated primary care provider may be complicated in a world of choices. Even primary care itself has many options, such as traditional community doctor-led primary care, advanced primary care with physician incentives, workplace on-site/near-site primary care, and virtual primary care.
Recommendations
Employers can consider three things as they are evaluating their benefits offering and seeking to understand the ROI for the benefits they offer:
Establishing a digital front door to help determine when or which employees might be better served by a live voice instead of a bot.
Seeking vendors that align with their strategy of helping employees navigate and connect the dots between the various parts of the health system and help reduce benefit redundancy.
Steering employees through multiple layers of health care benefits with clear communications and nudges to help them navigate to the right care pathway and provide a better care experience.
For more information on how employers can help their employees stay healthy and productive in an uncertain health care landscape, check out additional health insights from Fidelity.
---
Unless otherwise noted, all data is from the Fidelity Health Solutions Thought Leadership Consumer/Employee Survey, January–February 2022.
Fidelity Workplace Services LLC, 245 Summer Street, Boston, MA 02210
© 2022 FMR LLC. All rights reserved.
1049257.1.0
Share this post: